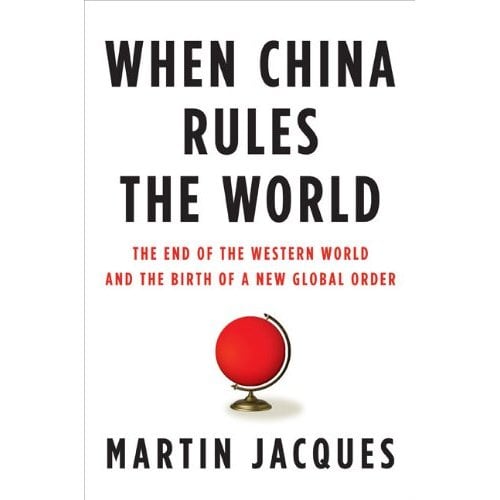 The recent BBC article by Martin Jacques, entitled "
A Point of view: is China more legitimate than the West?
", has provoked the ire of seasoned "China Watchers" everywhere. A few
intelligent
rebuttals
have already been produced. I saw the article yesterday, and the reason I wasn't surprised by its content is that I had already browsed through Jacques's recent book, When China Rules the World.
The fact is that for anyone with a real knowledge of China, it is impossible to take Jacques too seriously. His triumphalism about the Chinese model masquerading as impartial analysis just does not fit in with the actual situation in China, and few Chinese would share it. His idea that the Chinese see the state as the head of their family, even some sort of "extension of themselves", and that the government enjoys great authority and legitimacy, doesn't coincide with what those who really know the Chinese will tell you. And as it has been remarked elsewhere, the surveys of satisfaction with the Chinese government which he quotes cannot be taken too seriously.
It is funny that in his article, Jacques mentions Italy as an example of a country where, in spite of constant elections, the government lacks popular legitimacy. This is supposed to be in opposition to China, where the government enjoys great legitimacy in spite of the lack of elections. In fact the Italians and the Chinese are actually rather similar in their attitudes: the only thing they take seriously is their circle of family and friends. Outside of that, nothing really matters. The state is seen as something which has to be put up with, and the corruption of those in power is met with cynical acceptance.
Unsurprisingly Martin Jacques has little personal experience of China, and cannot speak Chinese. He apparently spent a short period as a visiting professor in Renmin University. Not enough time to really understand the country, but just enough time to be awed and overwhelmed, while not having to deal with any of the real problems of living here.
The tragedy is that the most basic arguments outlined in Jacques's book are correct, or at least deserve a hearing. China is indeed going to become more important in the future, the West will no longer dominate the global order, China and other Asian countries are not going to become more Western as they become more modern. China is the product of a different history, and we cannot hope to understand it by just applying Western concepts and prejudices in a different context. And yes, the Chinese state is quite efficient and effective in a number of ways, while managing to retain a certain amount of consensus (does that equate legitimacy?), even though none of the Confucian-style devotion he imagines.
All this is true and needs to be said, but it would take somebody who actually knows Chinese society to say it, someone who is aware of China's problems and negative sides and does not just engage in blind sycophancy towards Beijing. We may need Sinophiles, but intelligent, informed and balanced ones.